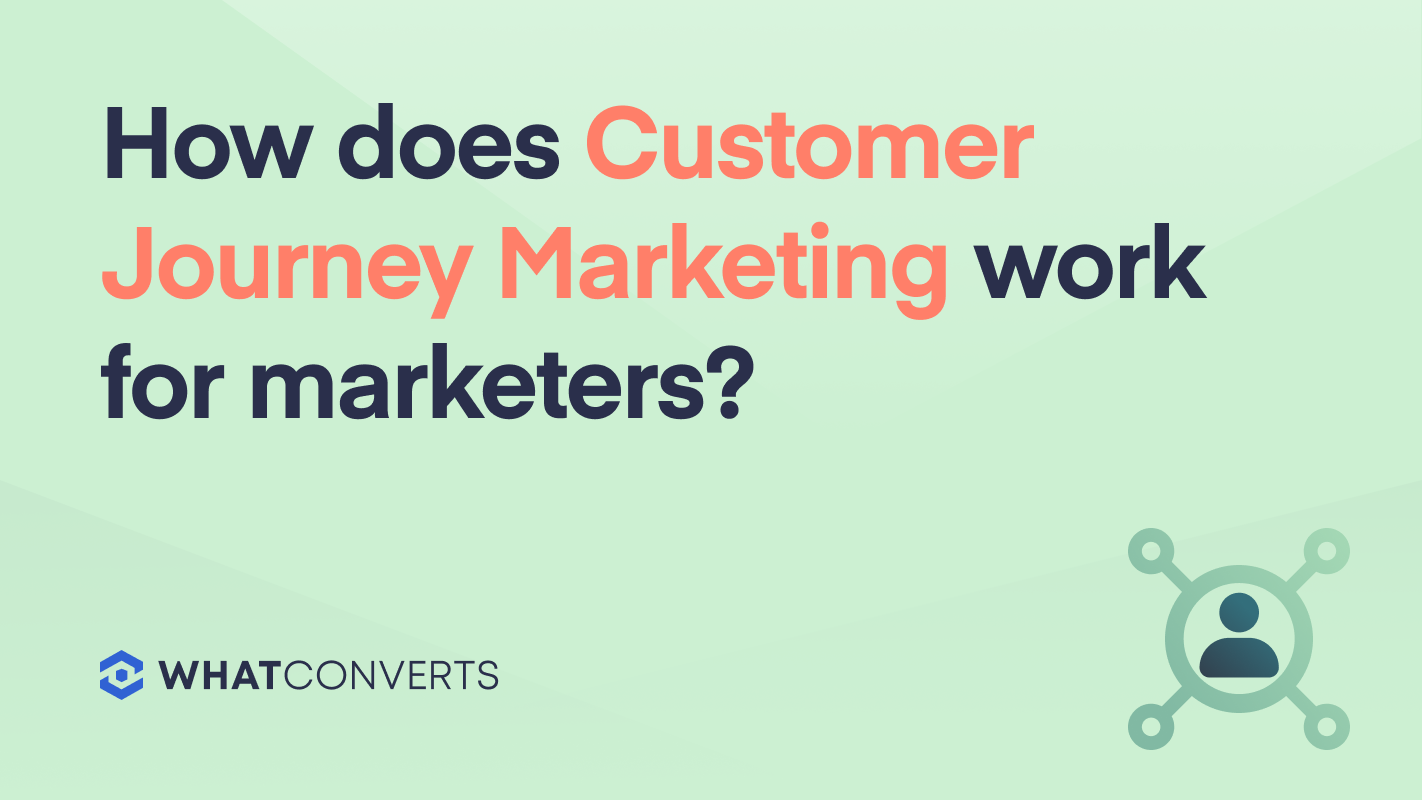 Do you like making guesses or knowing facts? Marketing shouldn't be guesswork. You shouldn't have to assume a campaign is working, or hope that SEO is delivering new leads.
You should know for certain. That's what Customer Journey marketing does; it shows you exactly what happened when a new lead found your business.
Marketers who use customer journeys know exactly which marketing channels deliver good leads. They know which web pages convince people to make a purchase. The customer journey even reveals gaps in your marketing strategy.
In this article, you'll find examples of Customer Journeys and learnings from each journey. These are real customer journeys pulled from the WhatConverts Customer Journey View feature (available in Agency Elite and Pro Elite plans) First, let's learn a little more about Customer Journey marketing.
Sign up here for a free 14-day trial. You can also request a 30-minute live demo, where we'll answer your questions and show you the best ways to use the Customer Journey View.
What is Customer Journey Marketing?
Too often, customer journey mapping involves guesswork and wishful thinking.
"We'd love it if customers saw this email, came to this landing page, then clicked on the pricing page and signed up for a free trial."
Or, "Ideally, customers will see this PPC ad, come to this landing page, then call us using the phone number on the landing page."
It would be nice if every customer followed the exact path your marketing team wants, but that's not how customers operate. They operate on their own time. With that in mind, you have two options if you want to create customer journey maps.
You can come up with the ideal map and hope customers follow this path
You can actually track real leads from stranger to customer.
Tracking the customer journey reveals how real people used your marketing materials to go from stranger to customer:
How leads first found your business
Which website pages they clicked on
Whether they returned later from another marketing source
Which conversion action they took to make contact
Once you have this information, you can adjust your marketing strategy to better align with how strangers become customers.
If you're new to using customer journey marketing strategies, you're not alone. 55% of marketers aren't confident in their company's understanding of the customer journey.
Some marketers are figuring out the value of customer journeys, however. Google says that the leaders in the marketing industry are 1.5x more likely than their peers to track customer journeys.
What does a Customer Journey look like?
In WhatConverts, Customer Journeys are stored in every lead. Clicking the Customer Journey reveals every marketing touchpoint and conversion action the lead took. Some customer journeys are simple: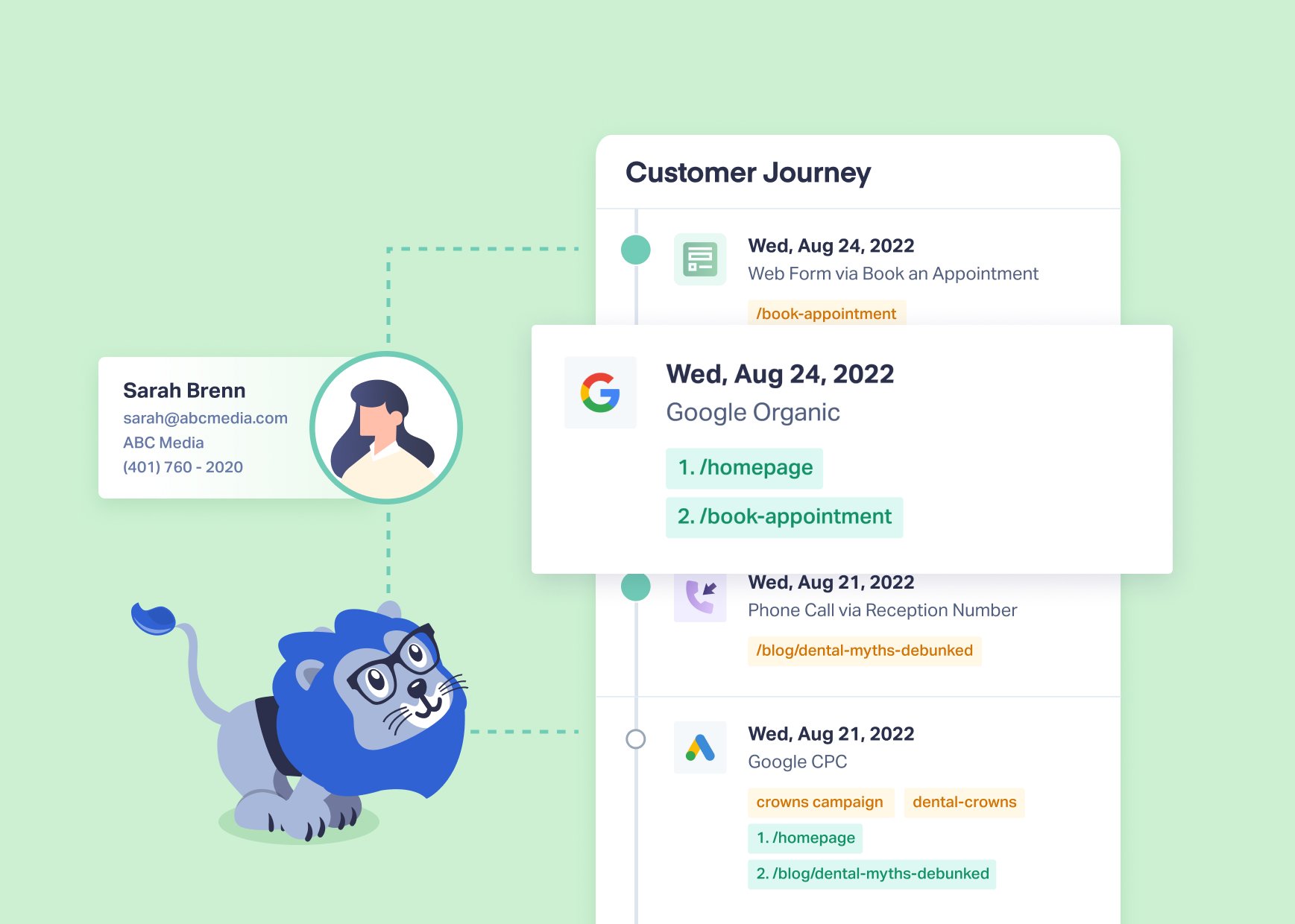 This lead found WhatConverts through a Google Organic search and then signed up for a trial two minutes later.
Some customers journeys are more complicated: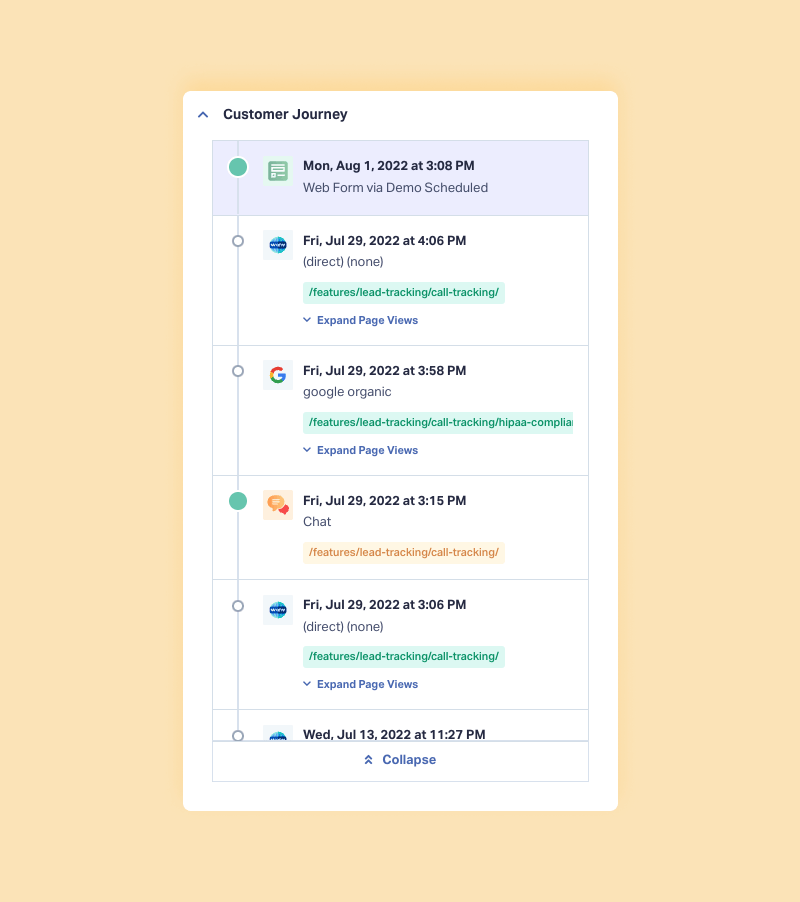 This lead found our website through a Google Organic search in February, came back in March, then came back a third time via Google Ads in April. They didn't convert on any of these occasions. In May, they came direct to our pricing page and finally signed up for a trial.
No two Customer Journeys are the same, but the information in each customer journey is invaluable. You can use Customer Journeys to find out which marketing channels are delivering leads, which web pages are driving conversions, and where you might be seeing potential customers drop out of your marketing funnel.
How can Customer Journey Marketing Help Your Business?
Customer Journeys can reveal where leads drop out of your marketing funnel. You can find these holes is by looking at leads that used multiple marketing touchpoints before converting to a customer.
Why didn't the first touchpoint work, and why did the second or third touchpoint entice them to make a purchase?
Here is an example of one such customer journey: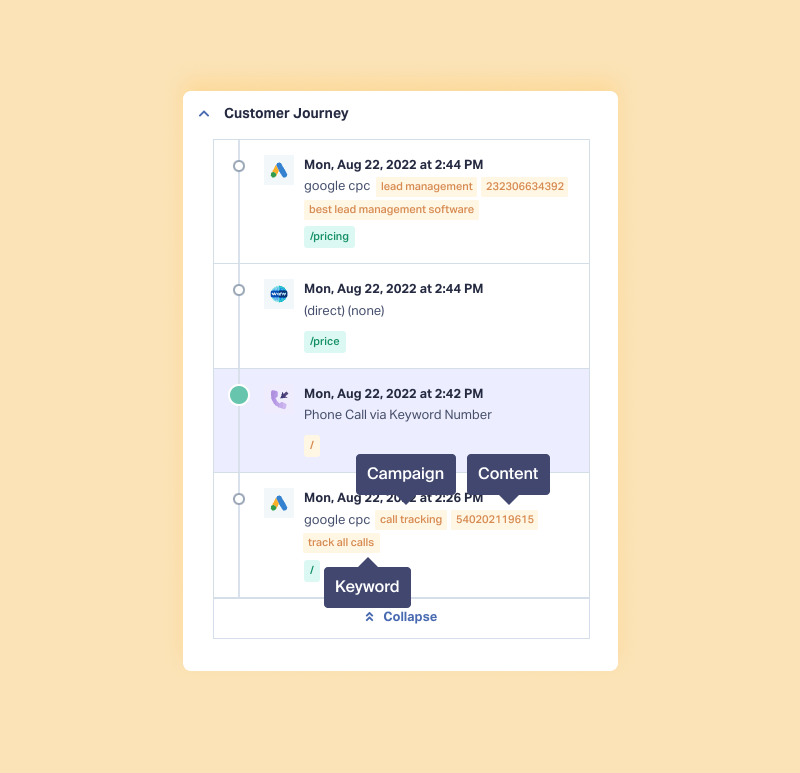 This lead first came to the WhatConverts pricing page on August 2nd then left the site.
On August 5th, the lead found one of our feature pages in an organic search. This page wasn't enough to convince them to sign up, so they left the site again.
On August 19th, they came back to our pricing page. They clicked on the free trial page but did not sign up. They then clicked on our account check-in page that allows anyone to learn more about how to set up WhatConverts. This page did not convince them to sign up either.
Finally, they found one of our blog posts about how to track phone calls in Google Analytics. This is the last page they saw before signing up for a trial of WhatConverts.
How can marketers use this data to boost conversions?
What if we had been able to show this lead the blog page during their first session on August 2nd? If they'd seen the blog then, they may have signed up for a trial during their first visit to the site instead of waiting until they finally saw the blog on August 19th.
We can use this information to make adjustments to the website.
Learning 1. By making the blogs more visible on our pricing page, we can ensure leads find the blog page that seems to convince customers to sign up for a trial.
Learning 2. We can also promote this blog and make sure it's appearing in search results, as it has proven to be useful in converting customers who may be on the fence about starting a trial.
This Data Helps Salespeople Too
The customer journey isn't just for marketers. Yes, it reveals marketing attribution information that ties marketing to leads, but it also gives salespeople the information they need to convince the lead to become a customer.
Here's an example of another customer journey that can help salespeople: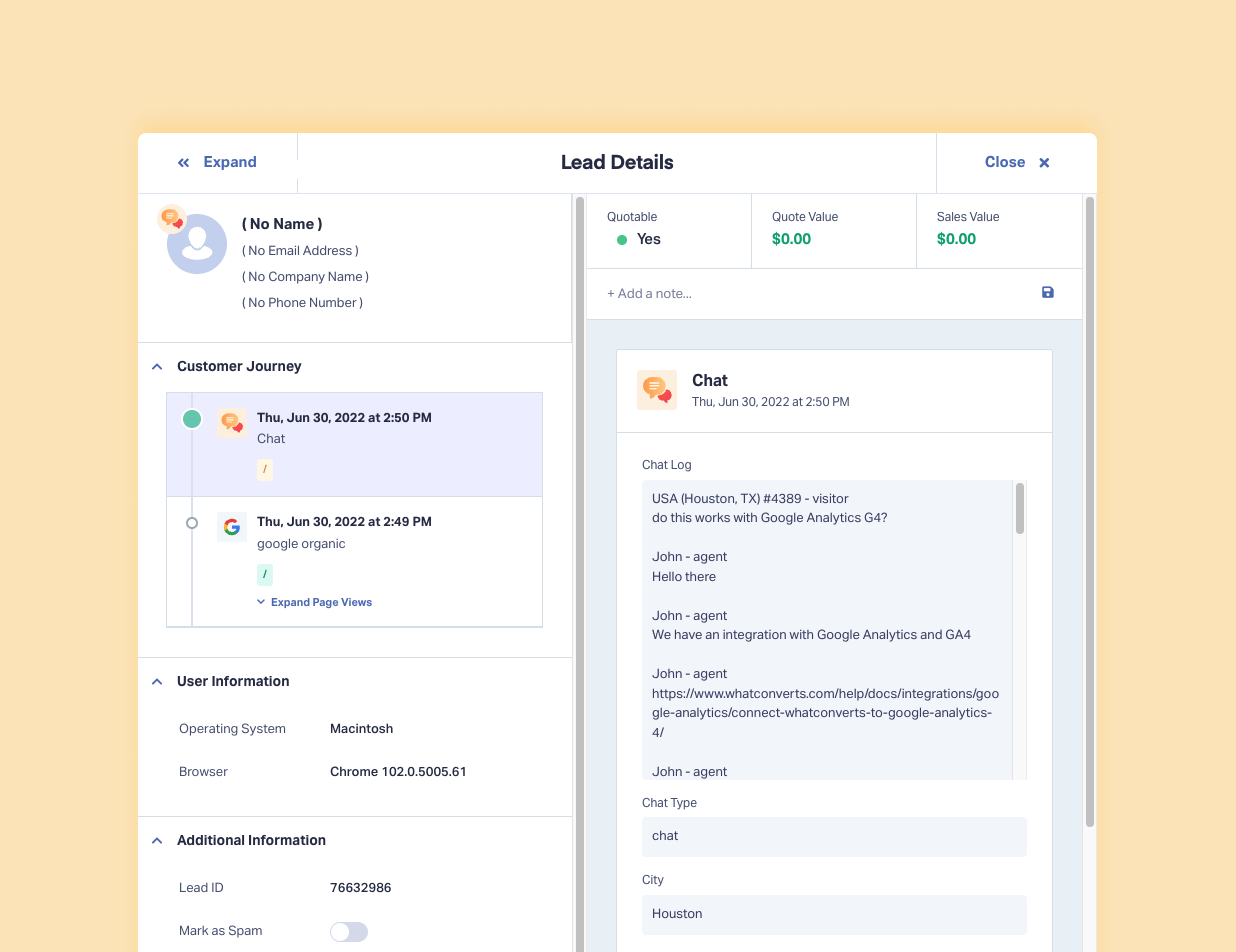 This lead scheduled a demo call with a salesperson after viewing many pages on the WhatConverts website. How can the salesperson use the information in this Customer Journey to prepare for the demo call and make it so that the lead is more likely to become a customer?
Learning 1. For starters, we know this person found the website through an organic search for how to track leads from direct mail campaigns. The salesperson now knows what the lead's pain point is.
Learning 2. This lead also visited one of our Use Case pages for the manufacturing industry. The salesperson now knows the lead's pain point and the industry that they're in.
Learning 3. Finally, the person visited the Use Case page for marketers. The salesperson can now assume this person is in the marketing department at a manufacturing company and is looking for a way to track leads from direct mail campaigns.
This is powerful knowledge that can help the salesperson prepare for the call and answer all the lead's questions.
Want to use customer journeys for your business? Sign up here for a free 14-day trial. You can also request a 30-minute live demo, where we'll answer your questions and show you the best ways to use our platform.