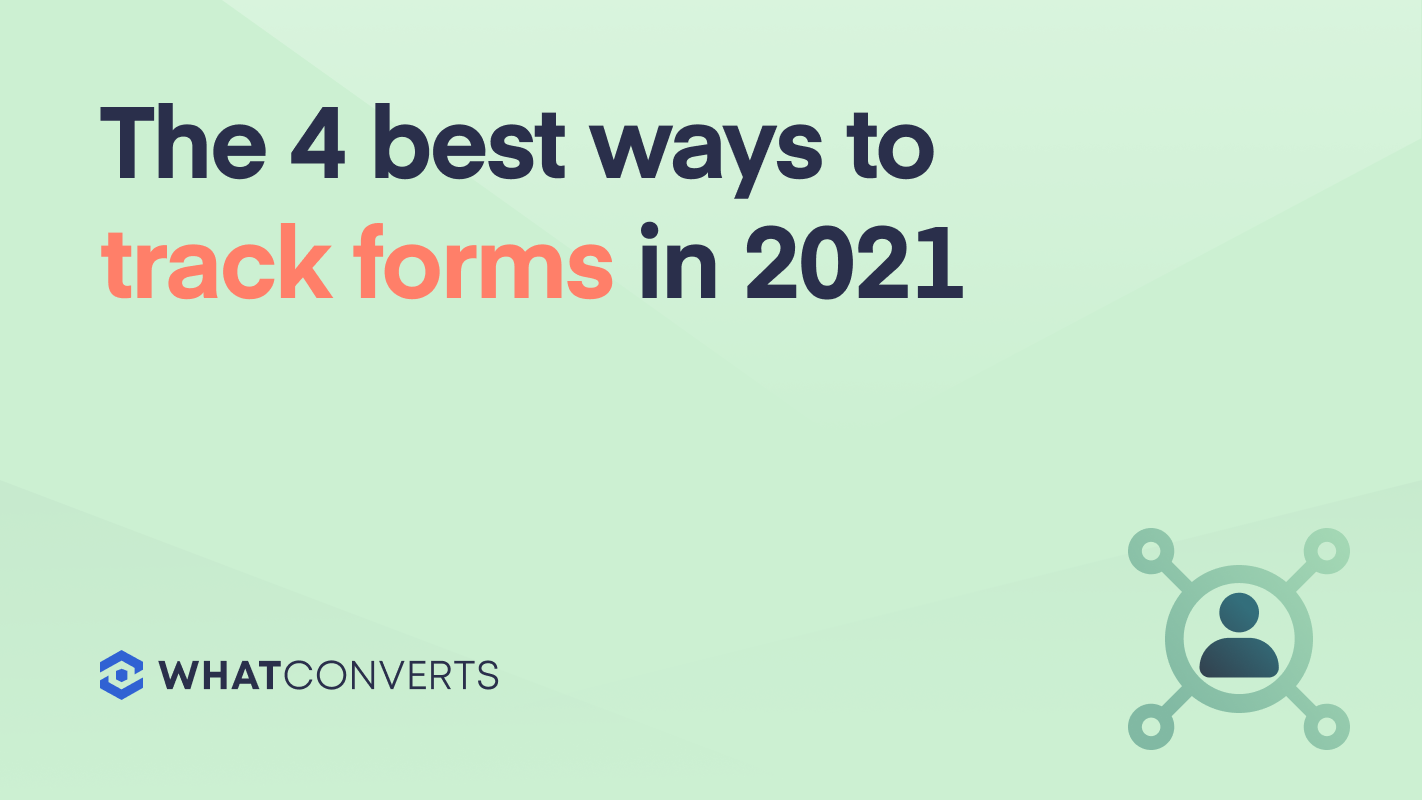 Do you judge lead generation campaigns on the quantity of leads, or the quality?
If you're going to track forms in 2022, it's not enough to just see the total number of leads. Seeing which form-fills result in quotable leads tells you which campaigns deliver the most sales.
Form-fills are commonly used on landing pages, inviting prospects to fill out the form for more information or to receive gated content. According to data from WP Forms, the average conversion rate for a form is about 21%. The problem with this number is that it's unlikely that every form-fill results in a qualified lead.
Even though your form conversion rate is 21%, your quotable lead conversion rate is likely lower. The only way to accurately measure the success of your forms is to track individual leads back to the marketing source.
You have a few options when it comes to tracking form-fill leads; use Google Analytics or Google Tag Manager, or invest in a lead tracking tool that can track individual leads from forms alongside all your other leads.
If you're just trying to track forms without knowing which ones are quotable, you can watch the video below or click here.
But if want to learn how a lead tracking platform like WhatConverts offers more business value than Google, read on.
1. Track Forms with WhatConverts
Tracking web forms in WhatConverts is easy, and it allows you to see full lead details — including marketing attribution — for every form submission.
To track forms in WhatConverts, you just have to do two things:
1. Add the WhatConverts Tracking Script to your site:
In the script, you will see your tracking code that is a unique identifier. This allows us to identify your profile.
2. Identify Your Web Forms
Simply add your "form name", "form action", "form id" or "form class" to tell WhatConverts which form(s) to track. The WhatConverts script picks up the information submitted in each form and adds these forms to your WhatConverts profile.
So, why should you track forms in WhatConverts?
It's the Simplest Way to Track Forms
The best form tracking tools are usually the easiest form tracking tools. WhatConverts doesn't require you to track Javascript events. All you have to do is identify the form you want to track, and WhatConverts will capture form-fill leads in the WhatConverts dashboard or and pass them to Google Analytics as conversions.
WhatConverts offers stability in form tracking
Have you ever set up your form tracking only to realize a month later that you were missing dozens of forms? Maybe you couldn't even get past the form-tracking setup because it involved complicated coding. WhatConverts is a lot simpler than most form-tracking tools, and it consistently tracks forms without gaps in data.
WhatConverts can consistently track forms as long as the name of the form doesn't change. That means you can make adjustments to your website, marketing strategies without worrying about losing the ability to track form-fill leads.
Every form capture includes detailed lead data
There's a big difference between detailed lead tracking from WhatConverts and conversion tracking from Google Analytics. Google Analytics doesn't tell you is if the form-fill lead was good, bad, or total junk. In Google Analytics, you only get the following information for a form-fill event.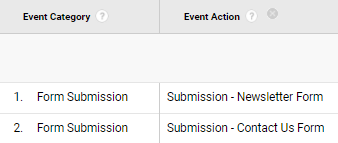 WhatConverts captures the complete lead, not just the conversion action. That means you can see all the marketing and lead information, like in the example below.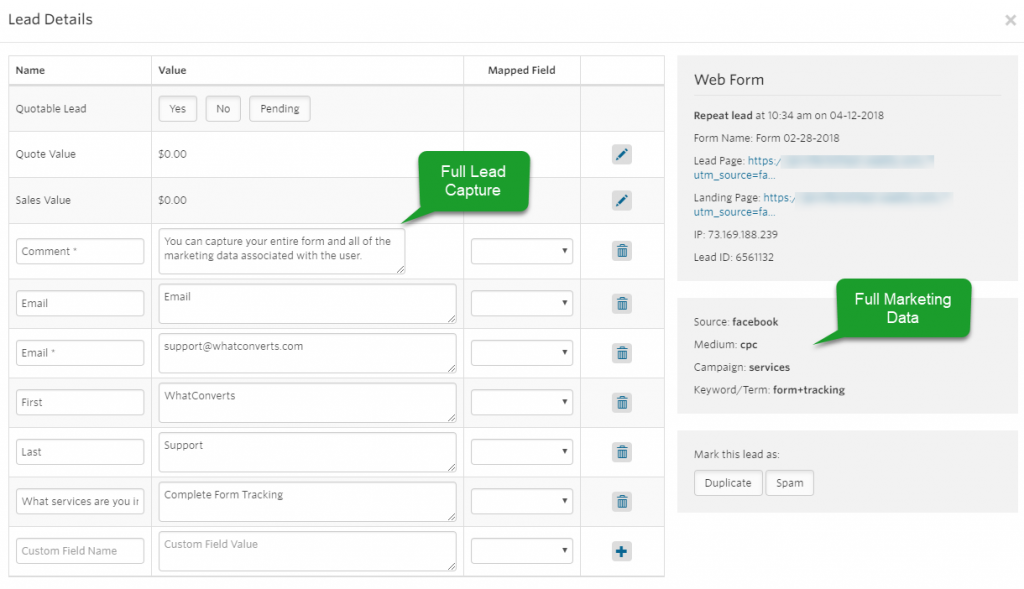 This allows you to qualify leads, identify your most valuable leads, and double down on the marketing sources and landing pages that are delivering high-value leads.
You can also manage leads and assess lead quality
Whether you're sending marketing reports to the CEO meeting with a client, it helps to show the individual leads underneath your marketing data. A report showing 44 form submissions may seem positive, but if half of those form-fills end up being qualified leads, the data looks a lot less promising.
Here's an example of the WhatConverts Leads by Keyword report. This report has a major advantage over Google Analytics reports: you can click on any bar to see the underlying lead data.
Lead Reports that show Individual Leads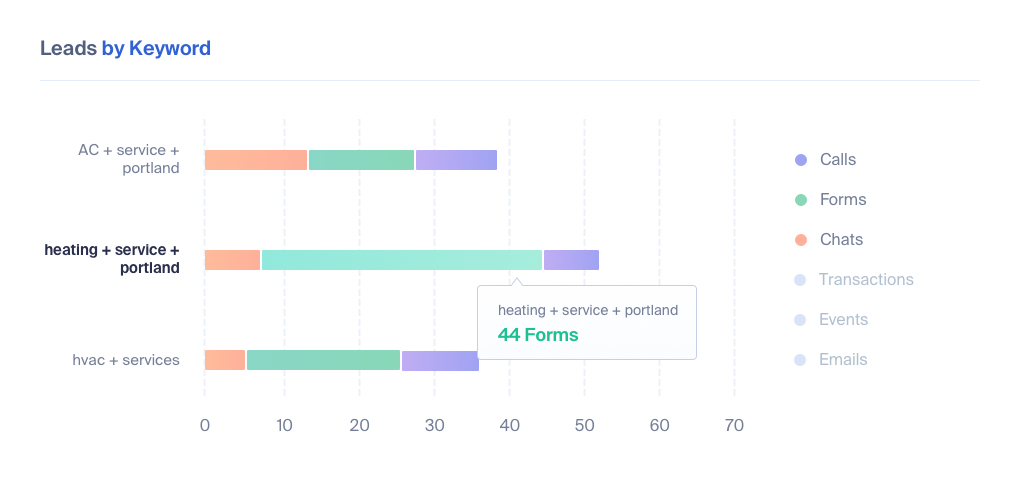 Below is an example of what that individual lead data looks like. Seeing this individual lead data allows you to actually see the quality leads that make up the report.

If you want more details on individual leads, you can click on the eye icon on the left to see form-fill data, call transcripts and chat transcripts: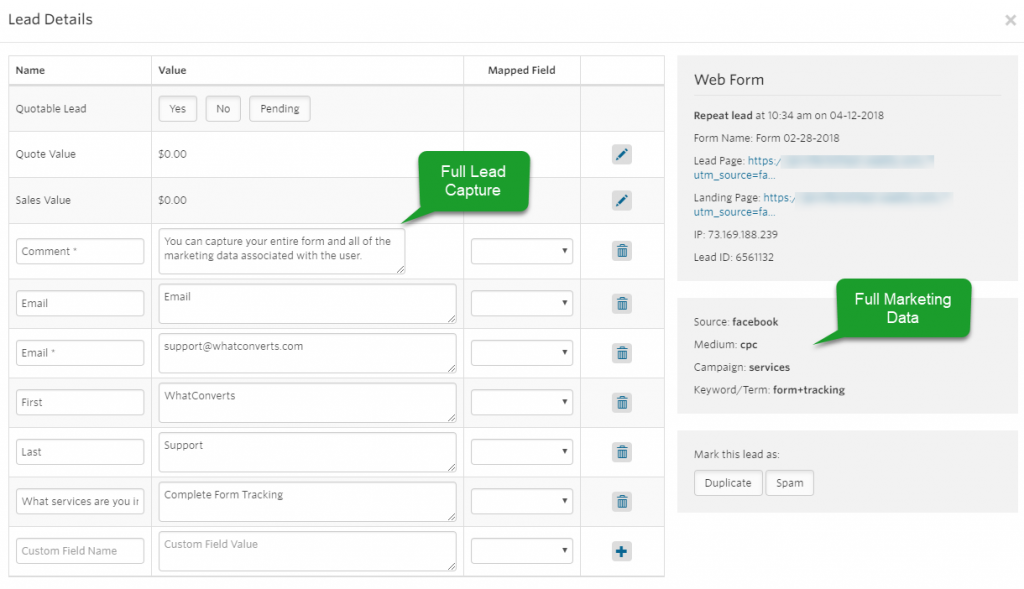 WhatConverts captures and stores all leads in one dashboard where you can manage them instantly. Seeing individual leads also tells you how well you targeted your lead generation campaign. When you can see individual form-fill leads, you can see whether or not they fell into your target audience demographics.
WhatConverts captures the following information for every form-fill:
Contact information:

WhatConverts captures all forms fields available in your form.
Lead request:

You need to know what a person is looking for so you can qualify, quote, or sell.
Marketing data:

See the marketing channel, PPC campaign and keyword, and landing page for every form-fill.
2. Add the WhatConverts script to Google Analytics
Some people prefer to track their forms in Google Analytics. WhatConverts can send conversion data to Google Analytics while also providing more detailed form submission tracking within the WhatConverts dashboard. This may be useful if you're used to pulling Google Analytics reports, but also want to be able to see the individual leads alongside all your other leads in WhatConverts.
Using goal completion tracking, WhatConverts does let you track form submissions in Google Analytics. WhatConverts uses events to trigger goal completions. This allows you to see all the form-fill completions in Google Analytics and track them back to the marketing channel, as seen below:

Setup is quick and easy.
1. Go to "Admin" in your Google Analytics account. Then go to "Goals" in the View column and click "+ New Goal".
Now it's time to set up your goals.
2. Choose the "Custom" menu item then click "continue."
3. Give your goal a name like "Form Submission" and select the "Event" button.
This next part is where you edit your Goal Details.
4. Set the "Category" to the event category. In this case, you're tracking web form submissions from WhatConverts, so you'll set "Category Equals" to "Form Submission."
5. Click "save."
That's it! Every time a form is tracked through WhatConverts, it will appear as an event in your Google Analytics account and trigger a goal completion.
Why use WhatConverts to send form submissions to Google Analytics?
One common way to track form submissions in Google Analytics (GA) is to track how many people reach the "Thank You" page after filling out a form. However, tracking "Thank You" page visits doesn't provide you with data on individuals; just the total number of page visits.
Google Analytics can track form submissions from the form itself instead of the Thank You page, but you don't get much information about the form-fill within Google Analytics. WhatConverts tracks form-fills directly from the form itself using a simple script, removing a cumbersome step in the process while supplying you with individual lead details.
Tracking forms with WhatConverts and sending them to Google Analytics also improves your Google Ads reporting. You can use the form submission "goal completions" to track Google Ads conversions. This allows you to track form-fills back to specific Google Ads and better measure the success of your PPC campaigns.
3. Google Tag Manager
WhatConverts uses a simple tracking script to track forms on your website. If you use Google Tag Manager for all your website scripts, you can easily add the WhatConverts script into Google's platform.
1. Copy the WhatConverts tracking code under "Settings" > "Tracking Code" in your WhatConverts profile.
2. In Google Tag Manager click" Add A New Tag" under your Workspace area. Select the "Tag Configuration" option and then choose "Custom HTML".
3. Paste the WhatConverts tracking code into the "Custom HTML Tag" text field. Select "All Pages" as your trigger and click on the "Add" button.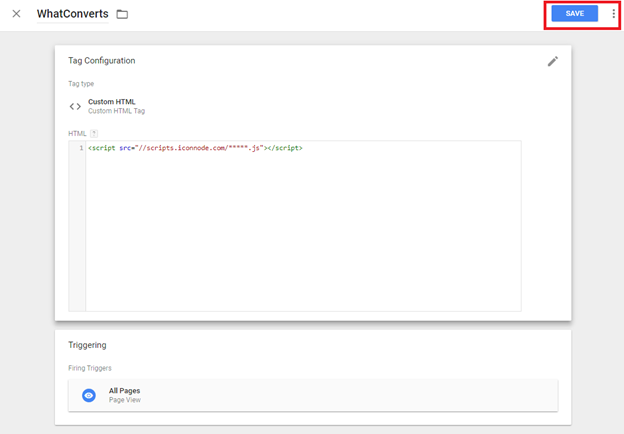 4. Click "Save" on the Tag Configuration Page.
5. Click "Submit" in your Google Tag Manager Workspace area, then hit "Publish" on the "Submit Changes" page.
That's it!
The WhatConverts tracking script makes this a far easier process than it would be if you were trying to add each form HTML to Google Tag Manager. The only downside to this method of form tracking is that third-party plugins can block Google Tag Manager scripts. That's why the best course of action is to install the WhatConverts tracking code directly onto your website.
4. Integrate WhatConverts with a form-builder to track forms
WhatConverts can track forms for 15 of the most popular form-builders on the market including Formstack, Hubspot, Unbounce, and more. Click here for detailed guides to setting up form tracking through your preferred form-builder. Every time someone fills out one of your forms, you'll see that lead immediately in your WhatConverts dashboard.
If you feel that WhatConverts is the right fit for your company, you can sign up for a free trial here or request a 1-on-1 demo of the product.